As Kyiv locals, the Redwerk team decided to share some of these well-kept secrets where you can find the IT crowd and get your drink on with them. Most of these places are not found in the obvious locations, but they're totally worth a visit.

Top Bars Worth a Visit in Kyiv
Eurovision 2017 is just a week away and Ukraine's capital Kyiv is gearing up to host the worldwide song contest. Tourists have already begun flooding in from all over the world to participate and spectate at the famous event.
Though Kyiv is well known for its religious architecture, striking monuments, and fascinating Eastern history, there's so much more to see in the city, especially if you are interested in the IT sphere.
It's a common fact that Ukraine has become the leading information technology labor force in Europe, and it exports billions of dollars worth of software to the world every year. Startups pop up here every day and you might be surprised, but services like Looksery, Grammarly and DepositPhotos originated from Ukraine, if you know where to look, you might actually meet their team members in the surroundings of this beautiful city.
As Kyiv locals, the Redwerk team decided to share some of these well-kept secrets where you can find the IT crowd and get your drink on with them. Most of these places are not found in the obvious locations, but they're totally worth a visit.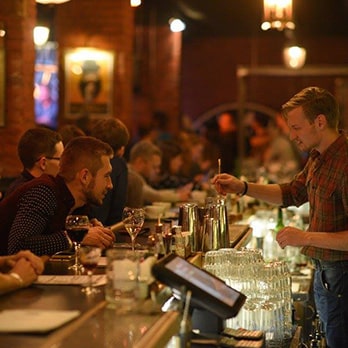 BarmanDictat
Hidden in the yard in Khreshchatyk street, this place is always packed with artists, musicians, marketers and computer gurus who know they don't have to go anywhere else looking for a good time. Live music, great choice of drinks and steampunk atmosphere – all these can be found in BarmanDictat together with folks from DepositPhotos.
How to find:
Khreshchatyk, 44
Enter the arch on Khreshchatyk 44, spot the glass with the wings sign, enter the black door to the left, go downstairs.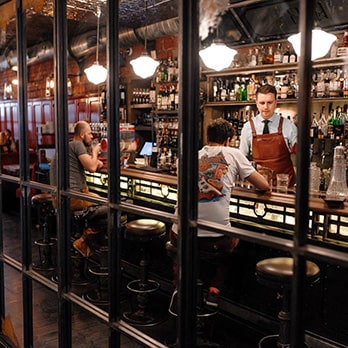 Parovozzz Speakeasy
This gem is tucked downstairs in Kyiv Cinema. It might be a little hard to find, but its classy atmosphere, attitude-free staff and awesome collection of cocktails will definitely leave you wanting another visit. Looksery team likes it here too.
How to find:
Velyka Vasylkivska, 19
Following Speakeasy concept, this bar is hidden from gapers. So, to find it enter Kyiv Cinema, then go to the left and downstairs. If you see phone booth, you came to the right place.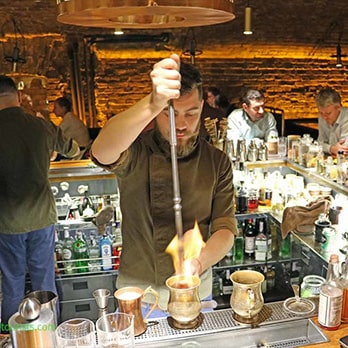 Loggerhead
This bombastic bar hides right in the core of the downtown area. Great mixology, delicious pan asian food and super social atmosphere. This place is where entrepreneurs, developers and even investors are often found networking and partying. You can meet Pics.io team among the guests.
How to find:
Tarasa Shevchenka Blvd, 1
Enter the first arch on the street and you will see a transformer themed door and the lever. Pull the lever, tell the security that you are going to Loggerhead bar, go downstairs, have fun!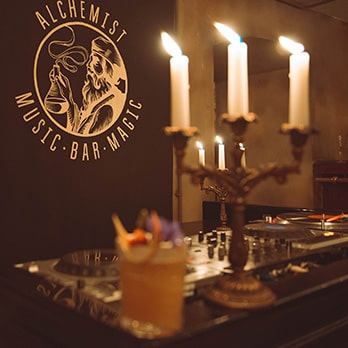 Alchemist
Well, there actually there are two of them. Both awesome. Interior, music, drinks and kitchen soaked in the magic of its name – and charm everyone who enters. This bar, popular not only among IT crowd, many Ukrainian celebrities frequent as well. Catch Ecoisme squad near the bar.
How to find:
Shota Rustaveli, 12
This one is easy to find. You'll see the sign and the ladder right on the street.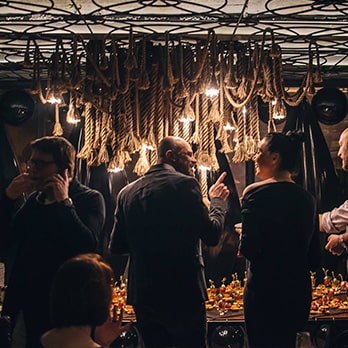 De Bosch
If you get tired with the loud and crowded party at Alchemist, there's a hidden jewel just few steps away. For such a hidden spot you'll be surprised how big and stunning the design is. We highly recommend you to take your time and explore all its chambers.
How to find:
Shota Rustaveli, 8
Enter the restaurant with bright red sign "

Хинкальня

" and go straight to the right. Behind the glass door and heavy curtain you will find stairs.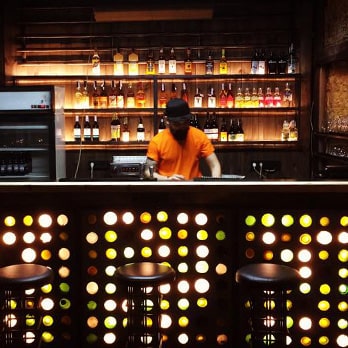 SKLAD
Another one in downtown. This bar is all about unmixed drinks, as they are. Great atmosphere, music and plenty of project managers can be found here. Find Redwerk's PM Vasyl, who's in charge of such projects as Justin Alexander, FitSoft and Plusplus tasting spirits here.
How to find:
Bessarabska Square, 2
Easy, it's in the building of Bessarabsky market, right across the Arena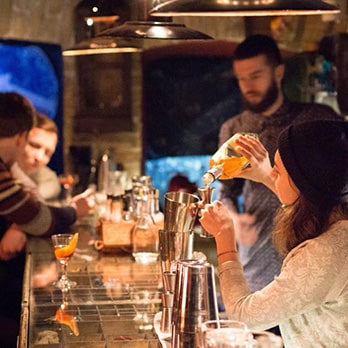 Lost&Found
10 minutes walk from Leo Tolstoy Square, you will find the best spot for dropping into casual conversation here in Kyiv. You won't find food here, but feel free to order or bring some yourself. A cozy atmosphere and friendly staff has made it a favorite destination for IT gatherings. It is also a place where you can meet our developer Max, who's working on projects for Frankly Inc.
How to find:
Volodymyrska, 93
It's right on the street, you won't miss it.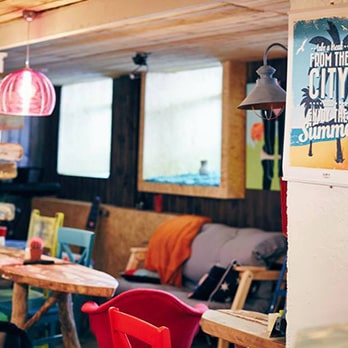 Под асфальтом Пляж
First of all, the name means The beach under the concrete, which basically explains the main concept of this bar, hidden under Yaroslaviv Val. A chill atmosphere with a surf-themed interior. Designers and marketers congregate here from all around the city. Remember the PetCube phenomenon? Find the team here.
How to find:
Yaroslaviv Val, 33a
Well, you'll get used to it: enter the arch, turn left. See the palms? Go downstairs.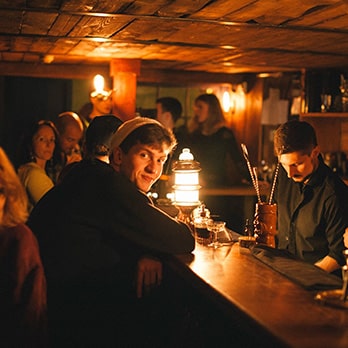 Podil East India Company
This bar has a different interior in every room and offers an original mixology. Cozy, friendly and located in the historic district. The streets around are jam packed with bars for any taste, so you won't get bored hanging in this neighborhood. Also there you can bump into Nate, the CMO of our awesome client AppGyver who likes to visit Kyiv.
How to find:
Mezhyhirska, 9
Bright blue front face between Coffee shop and Dos Amigos (btw great mexican cafe).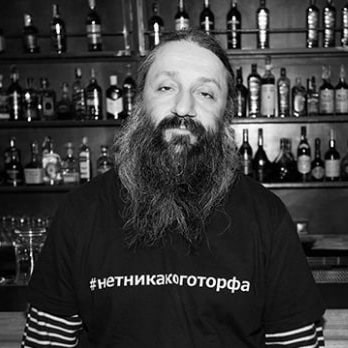 …
There's also one super secret and private place named Torf, that opens only two days a week and typically only lets familiar faces frequent. This is a place where you might come across some of the most interesting conversations. Though, you'll have to find someone who has been there before…
How to find:
…
Come meet the Redwerk team in Kyiv, we'll get you in
Besides talented singers who handed us a victory in Eurovision in 2016 and brought the contest to Kyiv this year, everyone is aware of the IT talent in Ukraine and its attractive price-to-quality ratio. So, if you happen to be in Kyiv and need a helping hand in development or a good company to talk tech, let's meet in one of the bars from the list.