The 21st century is known for the expedited penetration of information technology in all areas of life, and now it is facing exponential growth in all directions including the government sector. Many government institutions all over the world have already realized that information technology products help increase the efficiency of their work and the quality of public services as a whole dramatically.
Among thousands of issues, we can solve with new technologies in government, one of the most important nowadays is knock down the corruption, which is a malignant tumor to any economy. Corruption leads to non-efficiency of government programs, worsens country's business climate and contributes to negative tendencies like inflation. People, businesses, governments, and organizations have been struggling against corruption for centuries. Some countries have achieved impressive results, but others, like Ukraine, Russia, and other former-USSR republics, consider it as a number-one challenge.
Corruption is always up to a human factor, that's why "The Golden Billion" countries tend to reduce the headcount of the government institutions' staff replacing certain functions with automation systems, online services, etc. In this article, we are going to talk about some of the world's best practices in implementing government software products that have helped to overcome corruption.
IT Against Corruption in Numbers
According to the study by the United Nations Development Programme, information technology in different shapes or forms is capable of fighting the corruption and increasing Corruption Perception Index (CPI).
Positive Examples
As an example, we will talk about Lithuania which can be named one of the leaders in implementing technology solutions to strive against corruption, especially among post-USSR countries. The study has found out that in Lithuania the development of internet access has reduced the level of corruption, this can be seen in the chart below.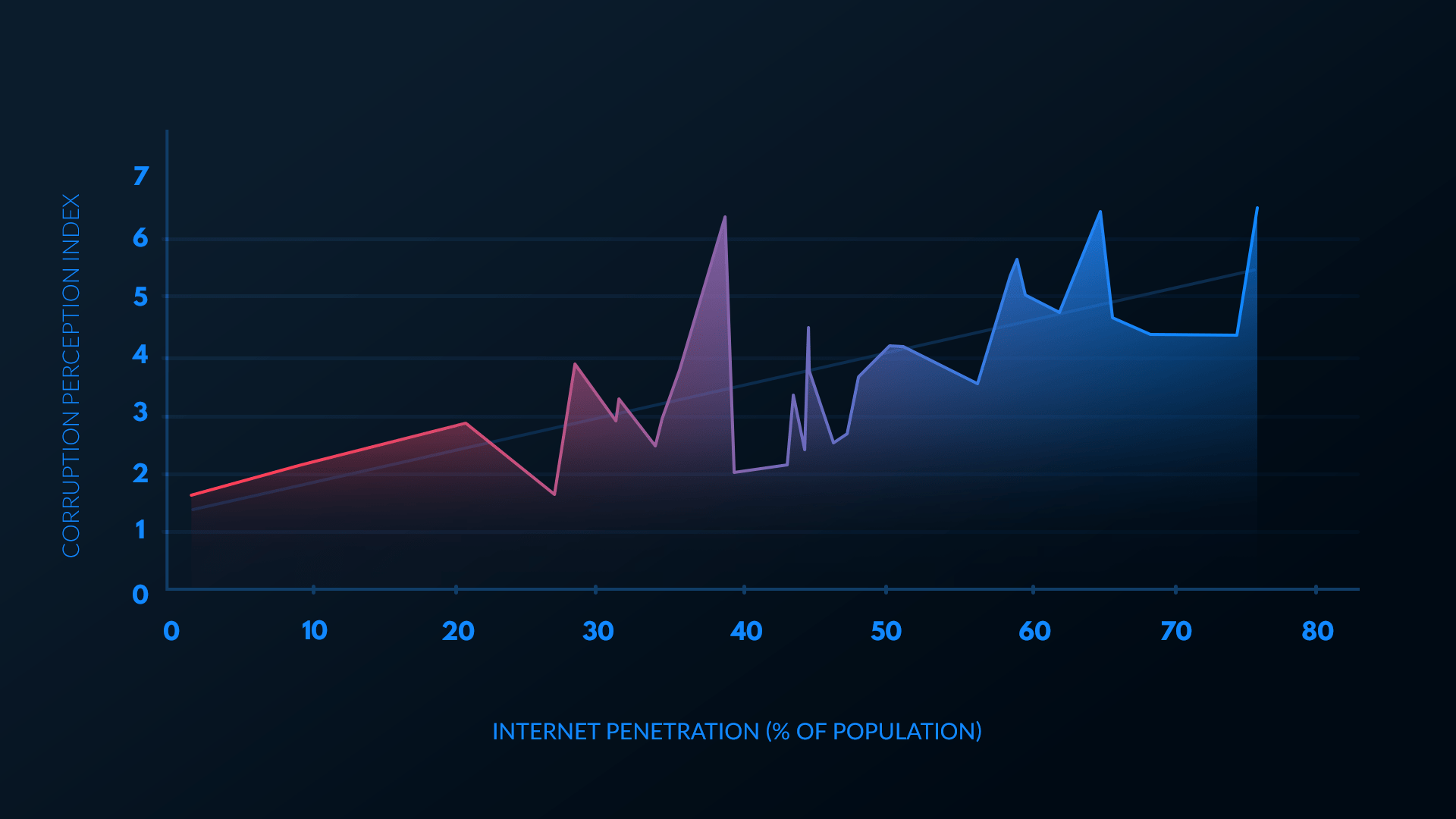 That's not a surprise, because Internet access makes people more educated and gives them an ability to get information from different sources and to have a wiser opinion on what is going on in society. On the other hand, the ability of information to go viral on the net makes politicians more cautious about the consequences of their actions.
Lithuania is among the leading countries in terms of internet usage: over 90% of Lithuanians have internet access and use it regularly. The results speak for themselves.
The study also highlights the importance of e-government projects in fighting corruption in the country.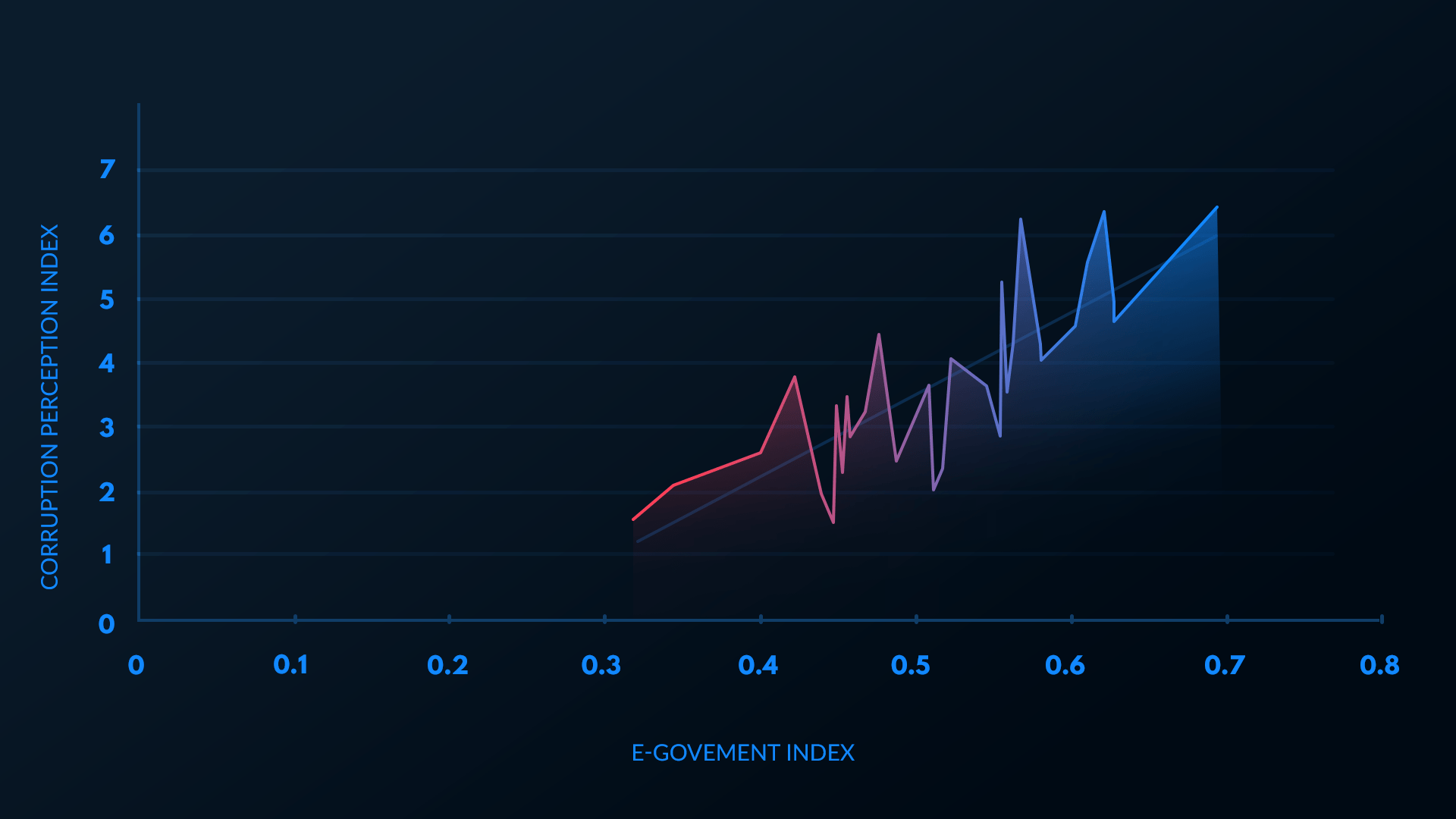 Lithuania is #40 in overall e-governance Index Rating by the United Nations in 2018 which is quite a good result for the country which was under Soviet influence for a long time. The chart above shows how drastically the CPI has been growing with the development of e-governance. The importance of e-government solutions in fighting corruption is obvious.
Worldwide Statistics
Let us also take a closer look at the correlation between CPI and the development of e-government based on the worldwide data. We've made some research and analysis of two 2018 reports: The United Nations E-Government Survey 2018 and Corruption Perception Index 2018 Report by Transparency International.
We've found out that CPI and EGDI (E-Government Development Index) both have a strong positive correlation. There is a chart below, that has been made based on 2018 data from 168 countries.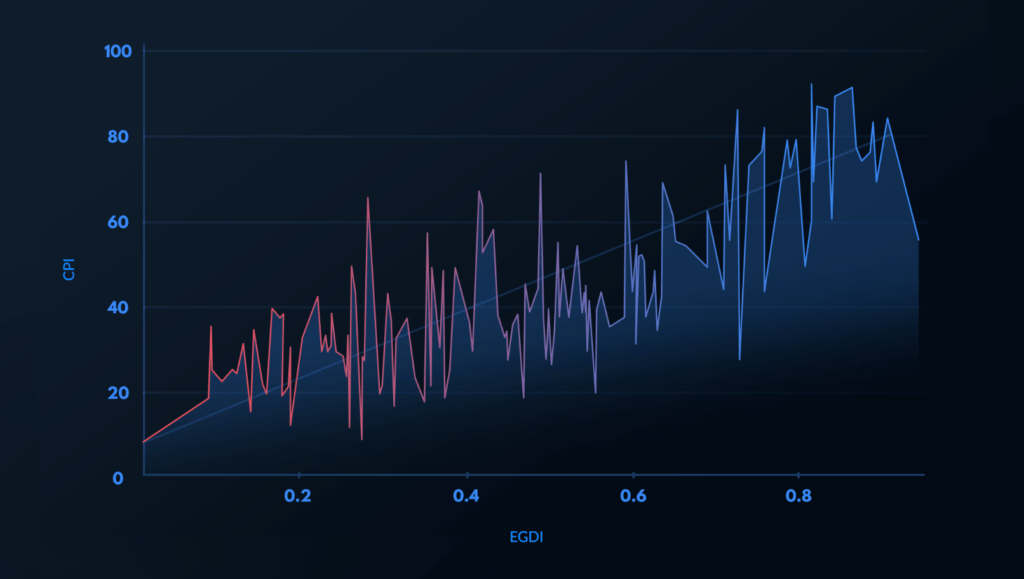 United Nations also gives two major components of EGDI: the development of online services in the government sector and the development of telecommunications technologies. Our analysis has shown that there is a difference between how CPI is related to each of these components, CPI and online services components have a much less strong correlation.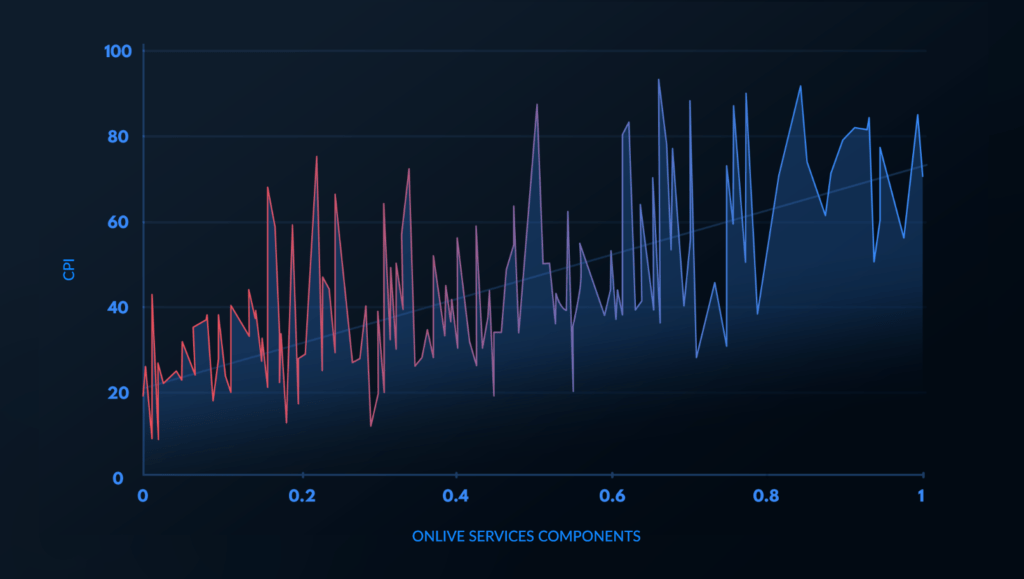 On the other hand, the development of telecommunications solutions is far more important, CPI is the most dependent on this value.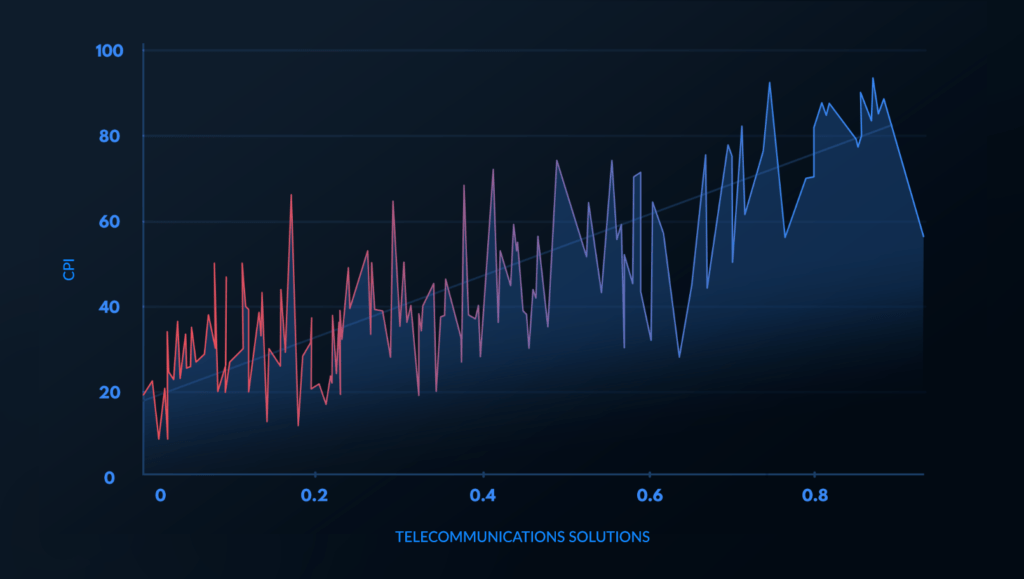 Well, that's not a secret that any government is not just about either people or resources. Government is the machine that can run well only on the condition of the effective communication and relationship between both elements. Efficient telecommunications enhance all the processes among the government structures making them much more synergetic, transparent and controllable. What else can we do to combat corruption?
Best practices
The abundance of areas waging their war on corruption offers technology a chance to contribute to this insurmountable task. The Swedish Program for Information and Communication Technology in Developing Regions has developed a unified list of prospective areas where ICTs can help in preventing corruption. We are going to go through this list with live examples of how this works in each area.
Automation
Allows to reduce the corruption in repetitive operations, and also saves budget money.
OpenSpending Platform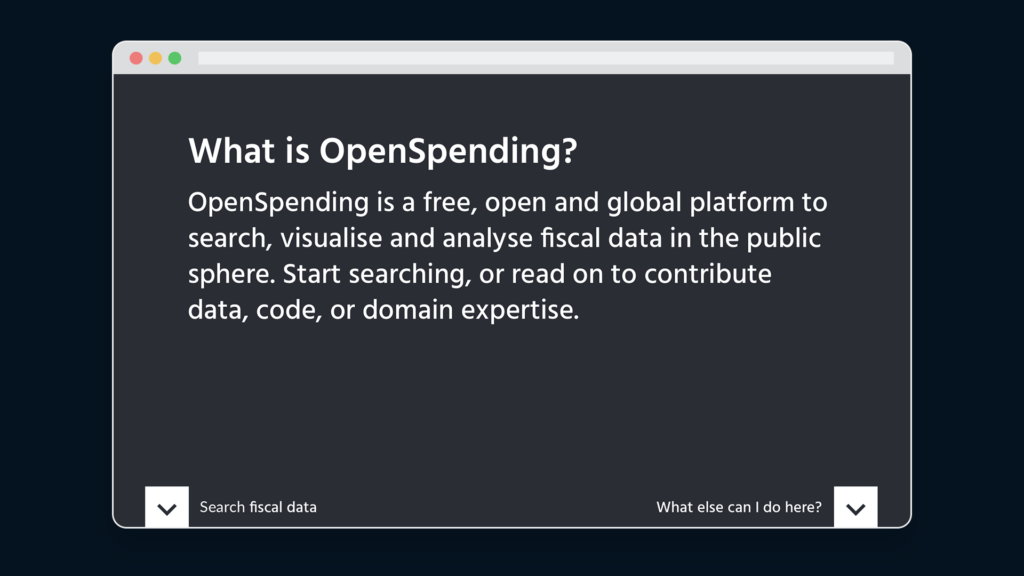 OpenSpending is a massive database of government spending that helps to track every government and corporate financial transaction across 78 countries and present it in user-friendly and engaging forms. In the transparent, open source software system, everyone can see how their taxes are being spent by government, upload budgets, procurements, public employee salaries, and visualize their data through the various built-in interactive instruments.
Ukrainian Public Services Portal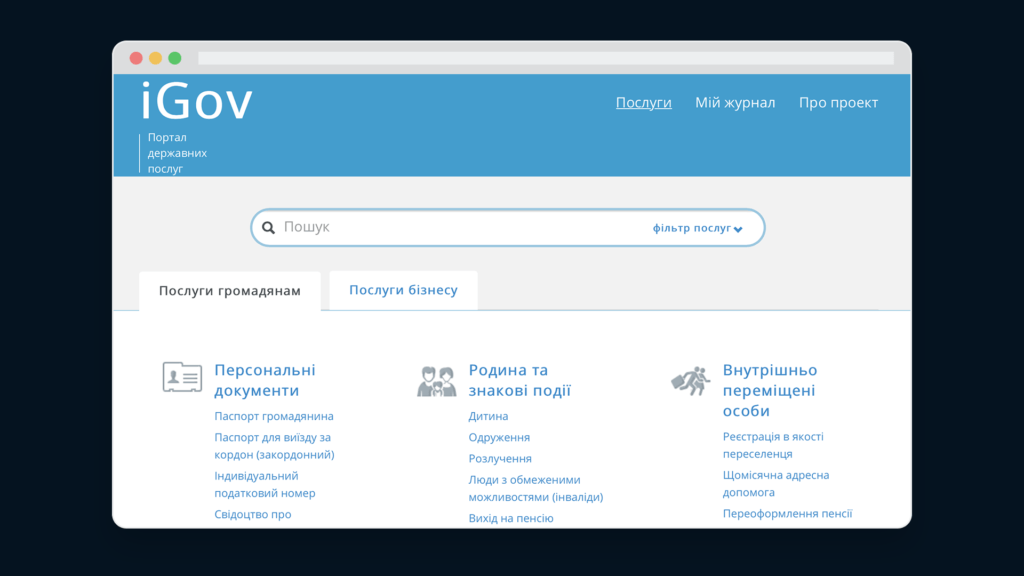 The iGov portal has been created in Ukraine by a group of volunteers as an attempt to fight against corruption in Ukraine and to improve business processes in government institutions. Here there is a possibility to get some of the government services online: the user can send the request to the needed service through the form on the website.
Online Police Station by the State Police of Italy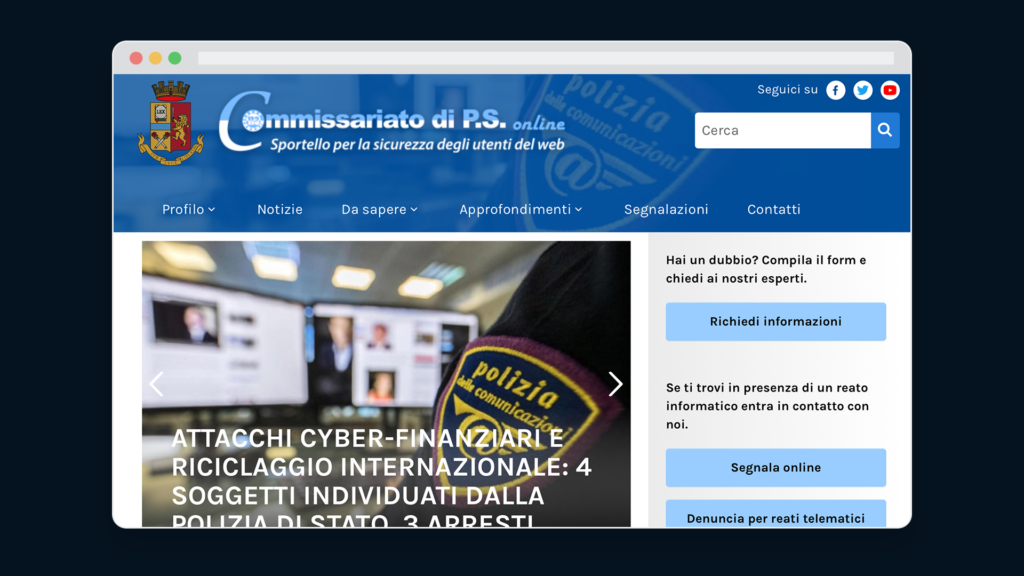 Online Police Station by the State Police of Italy (OLPS) was launched by the Italian State Police in February 2006. Using a virtual reality interface, it provides general information and online assistance. It enables citizens to download forms, make online complaints, get advice and/or report events of an illegal nature without visiting the police station.
Transparency
These projects reduce the room for discretion.
Official Public Procurement Web Portal of Ukraine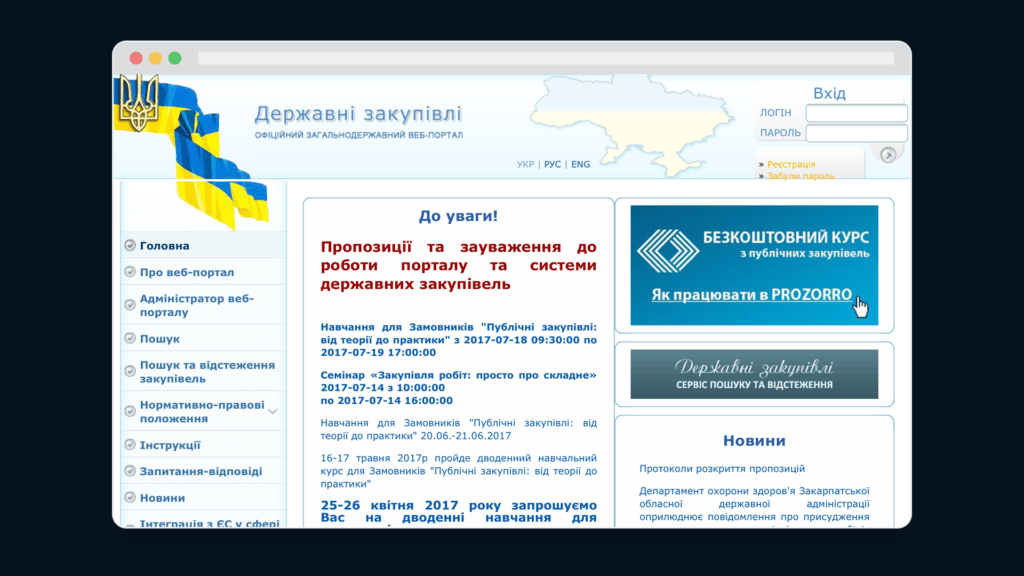 Official Public Procurement Web Portal of Ukraine is a web portal that has been established to ensure openness and transparency of public procurement to improve their efficiency.
Today more than 24 thousand clients, 183.5 thousand business users and 302 government users are registered on the web site. The web portal has already published information on almost half a million procurement procedures, whereas database web portal contains over 10 million documents.
The web portal contains the following information:
All information about public procurement in Ukraine since 2008.
Information on procurement conducted through public enterprises.
Legislation guides on public procurement.
ProZorro e-procurement system in Ukraine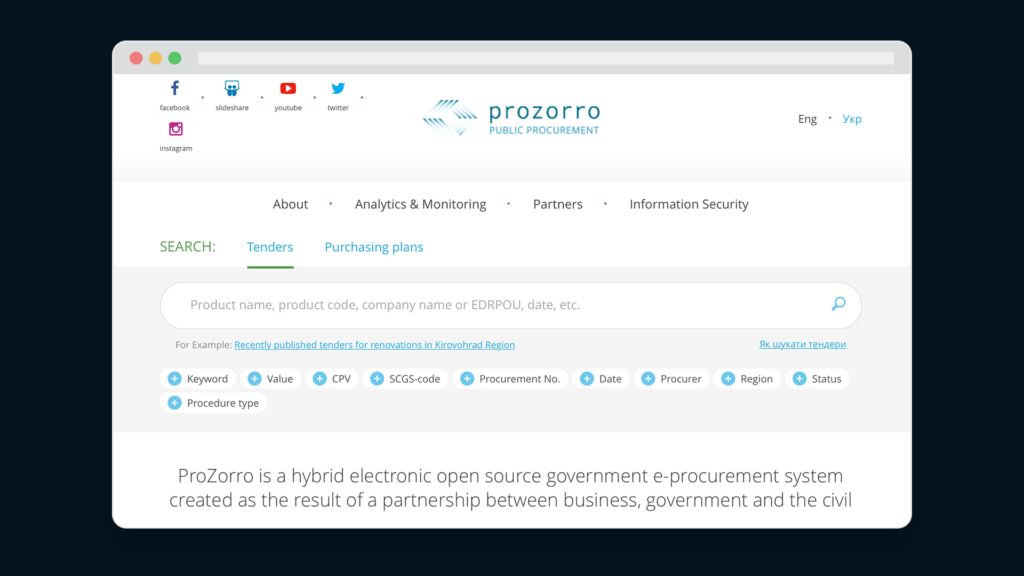 One more Ukrainian program and one of the hot potatoes over the recent years is ProZorro. It is a public electronic procurement system that ensures the possibility of effective eradication of corruption in such an important area as public procurement. The official slogan of this hybrid open-source platform is "Everybody sees everything." Upon completion of a tender, in the analytical module, each person can see all the information about participants, their proposals, the decisions of the tender commission, official documents, etc. Primary benefits of ProZorro are the prevention of corruption, transparency of the tender process, the simplicity of applying delicate procedures, electronic document management and broad involvement of the public.
The most important fact is that the World Bank has approved ProZorro and recognized it as suitable for its purchases. Also, the system has received an international Public Sector Procurement Award for the creation and implementation of an electronic system with unique architecture.
DoZorro monitoring portal in Ukraine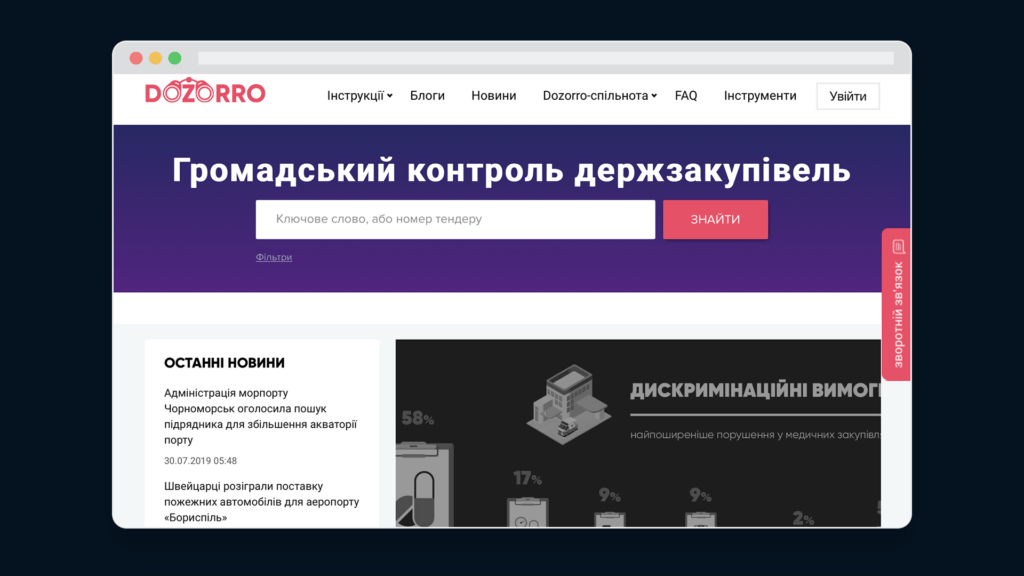 In addition to ProZorro, in Ukraine it was created DoZorro – an online platform for the control of the sovereign tenders of ProZorro. The system collects qualitative and quantitative information about tenders, as evaluation of purchase conditions, the interaction of customer and participants, qualification process and performance by the customer of the terms of the contract. DoZorro has methodical materials to independently defend the violated rights in the sphere of electronic procurement. It also offers an analytics module, additionally, it has media and news sections.
In case of detecting violations in tenders by the public organizations, they will form requests for controlling and law enforcement bodies. In this way, civic organizations are trying to eliminate violations in Ukrainian law and to file criminal and/or administrative complaints to the relevant authorities against civil servants who contribute to the proliferation of bribery.
Government Portal Project in Angola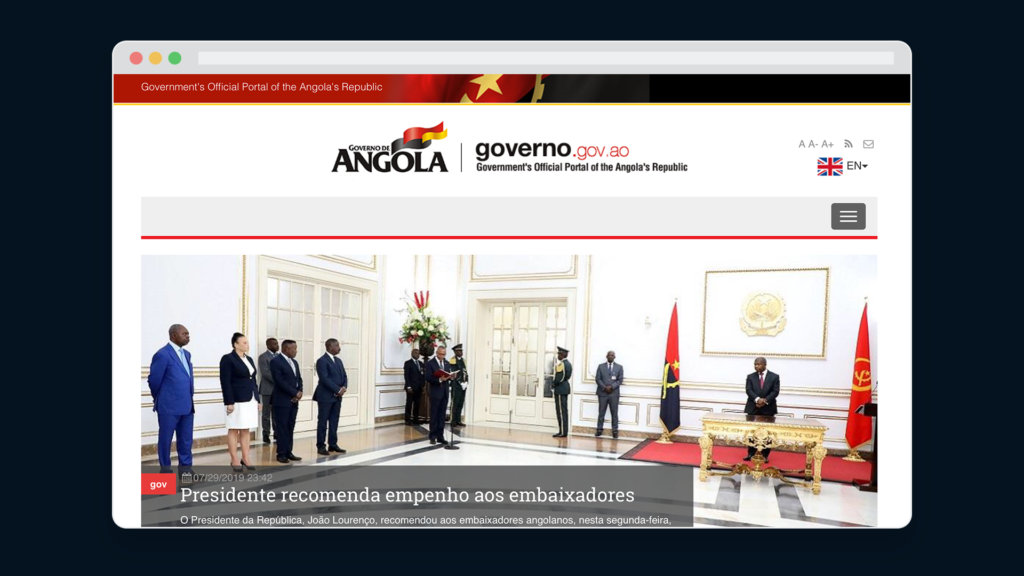 The primary objective of Angola's government portal is to bring all the official public information and services under the same roof making them available to citizens online. People of Angola can find information about different government programs with an option to send their comments to the government. The system provides 157 public services online and the info on 31 governmental programs. There are 28 official government forms at the portal, and it provides the ability to make appointments with government officials as well as downloading documents.
Government E-Procurement System in South Korea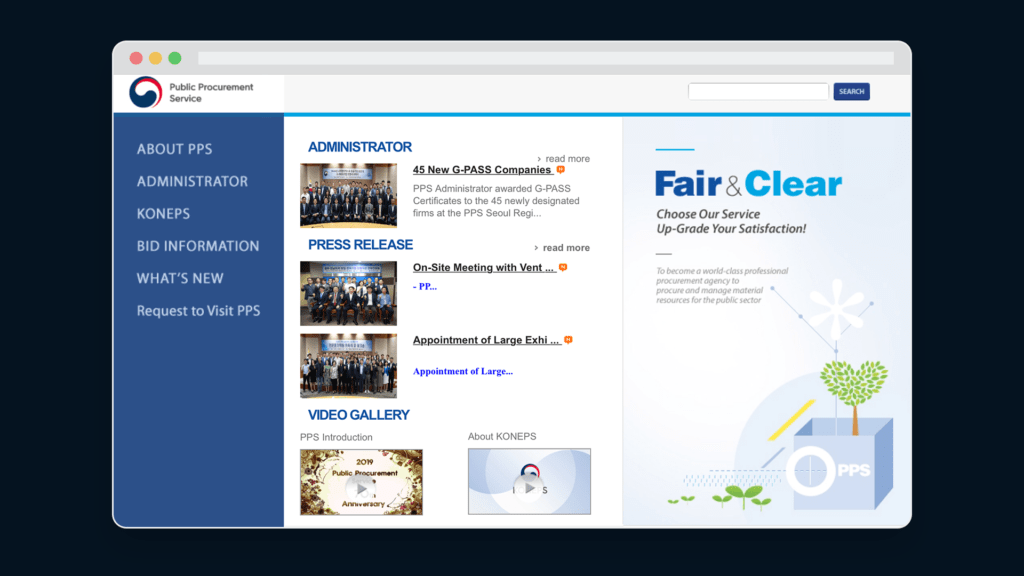 KONEPS is a Korean government e-procurement system developed in 2002. It covers the whole procurement cycle: submission of information about bidder's qualification data, procurement projects, requests, contracts and payments in real-time. After implementation, KONEPS has raised the effectivity of procurements, the number of participants in public tenders, has improved transparency and eliminated dozens of corruption incidents. Such features as fingerprint recognition e-bidding system and usage of biometric security tokens are also applying in bids and help to predict the counterfeit of e-certificates. In 2011, in addition, they also launched an e-procurement system for smartphones, also protected by tokens.
Operations monitoring
Provides identification of anomalies, outliers, and underperformance within government institutions.
Tributación Online: A Computerized Tax System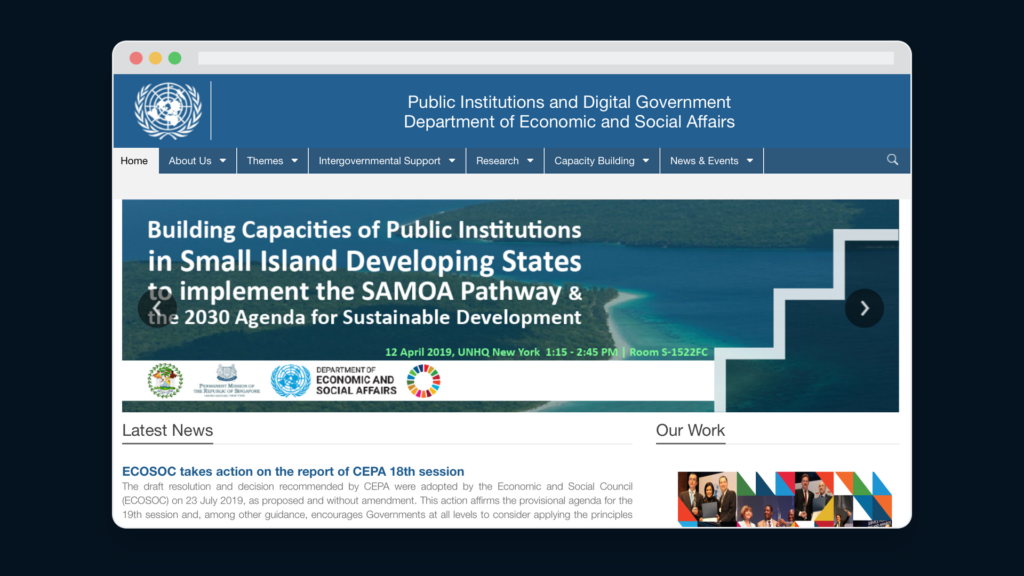 In the early 2000s, Peru's National Superintendent of Tax Administration initiated the development of a computerized tax system designed to make operations more efficient by using information technology solutions. In 2003, tax payments started being accepted online.
As a result, ICTs have reduced the cost of operations by 20 percent, also this system has allowed decreasing of the number of personnel needed, so that the room for corruption became much more narrow, this also means less bureaucracy. At the same time, the number of tax returns that require verification or correction has been reduced. The fines for incomplete tax returns have been eliminated since the system rejects such returns, that said implementing the ICT system has lifted the efficiency and transparency of the tax system.
Monitoring of networks and individuals
These projects prevent the possibility of corruption through monitoring of the processes related to a single individual or small groups.
Local Authorities Enforcement Monitoring System (UK)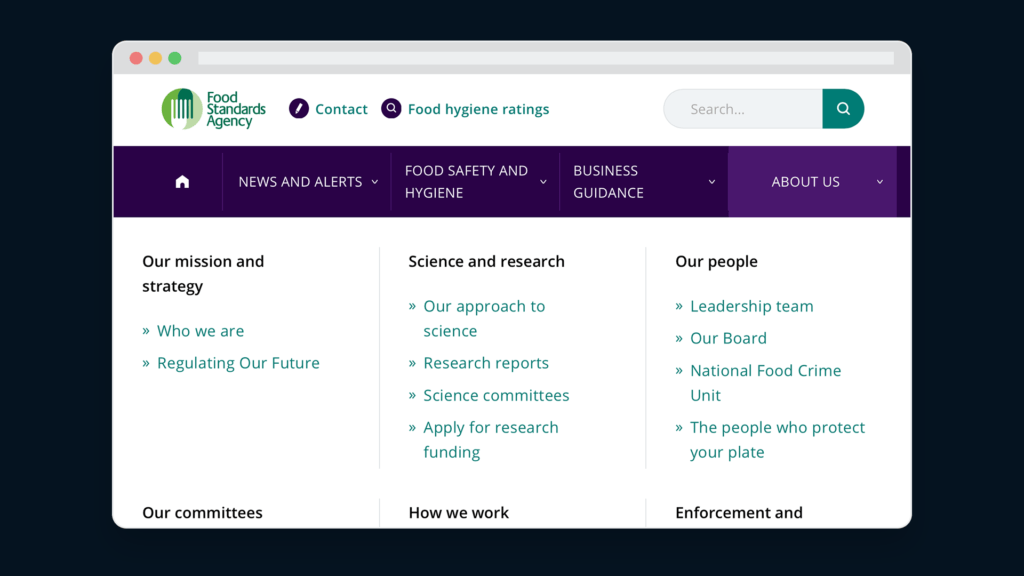 Food imports and policies have always been a spot where corruption takes place, especially when it comes to law enforcement: here, in Ukraine, we know that enactment of e-law doesn't mean that it will be actually followed by local authorities who have their own interests.
Local Authorities Enforcement Monitoring System (LAEMS) is an automated system used by the UK Food Standards Agency to monitor law enforcement activities on food policies made by local authorities. The information is compiled by the FSA from returns by local authorities. The system gives the FSA a detailed breakdown of enforcement activity across the whole country. This is the excellent mechanism by which the FSA sets out all the standards for local food authorities, including the FSA's monitoring and audit processes.
Awareness raising and reporting
These projects empower the public and inform them about their right to resist corruption, they also allow the reporting of fraud.
I Paid a Bribe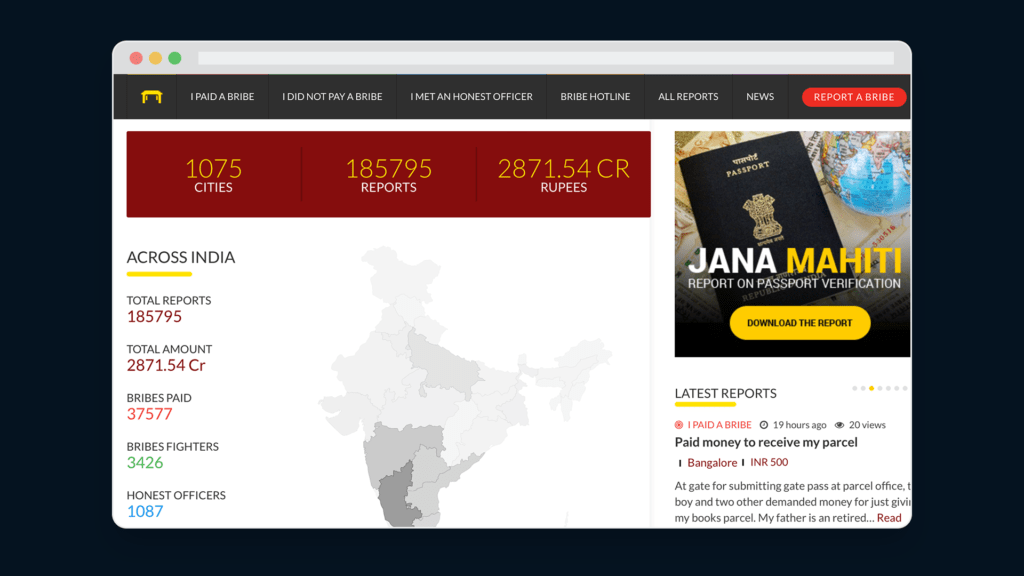 I Paid a Bribe is Indian's unique initiative that enables to tackle corruption using the collective energy of citizens. On this website you can report on nature, number, pattern, type, location, frequency, and value of actual corruption acts. These reports create a full map of bribery across the whole country. The creators of the website promise to use this information to argue for improving government systems, tightening law enforcement and introducing policies reducing corruption in government services. After registering at the website you can report recent or old bribes you have paid, and also there is a possibility to tell the community if you resisted a demand for a bribe or if you didn't have to pay a bribe, because of an honest official helped you.
Bribe Market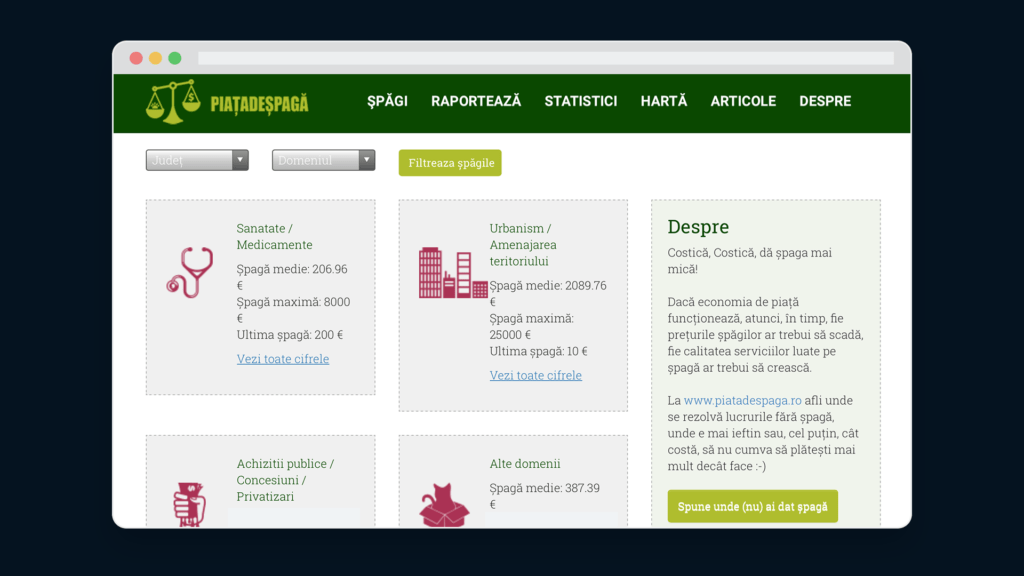 Based on India experience, a similar program called Bribe Market was set up in Romania. It presented as a market competition of corrupt decisions, where abuse of entrusted power is a commodity and the bribe is a price for it. On Bribe Market's website, you can see the real costs of public services, places where bribery thrives and where it was rooted out forever. This service is oriented towards a collection of information about corruption, and using it only for fact-finding purposes as it has no real legal evidence.
As a result, the program gathered thousands of people around it and for the first time after the launch has obtained more than 1200 reports about corruption, 25-35% of those about "no bribe" instances. Additionally, people can make reports through Bribe Market's iOS and Android application thereby helping to fight bribes.
Redwerk's Experience in Government Sector
Here at Redwerk we understand the undeniable importance of the improvement in the governmental tech area. In recent years we have created or updated custom e-government products for clients from the US, Belgium, Netherlands, Italy, and other countries. One of the biggest projects we are proud of is the upgrading of EUREL EUGI platform for voting in the European Parliament that was deployed to production and is now fully operational. Among the other projects we've accomplished are also:
Conclusion
We have conducted an overview of the world's experience in combating corruption, it is evident that almost every country faces the problem of bribery. Thanks to modern technologies it is possible to restrain criminals by using different anti-corruption systems and portals. Thanks to such IT projects, people redistribute power in their countries and set an example for other states. We are proud that Ukraine is one of the countries that conduct an intense fight against corruption and develops innovative software solutions and have been awarded international prizes.
At Redwerk we have accomplished great fits in reducing corruption around the world and we are always opened to new partnerships and projects aimed to change the world and people's lives for the better. Contact us, and we will provide the best solutions for your projects.