What's a strong sales process? We believe it's putting the right efforts into the right places at the right time. Just like in a Tetris game. And the foundation of this game is presales. In case you are keen to get the "backstage" of the presales process, this article is for you. We will explain what the presales process is and how it can be implemented in the software outsourcing company to ensure the best result for both parties.
Gearing up for sales
That is exactly what the presales process is. It is the groundwork that leads to the sale itself, including acquiring, developing, and maintaining customers. While closing deals gets all the credit, a successfully performed presales process is what boosts your sales and impacts the overall success of any company. But to enjoy those benefits, you will need it to be well mapped out.
What's inside the presales process?
Everything you do before sealing the deal is part of the presales pipeline:
Lead screening and selection
Product research
Market research
Data analysis
Client analysis
Call scripts preparation
Identifying solutions for clients' issues
Commercial offer
Sales management
All these points are related to research, validation, preparation, and client care. When it's done, the customer is handed off to those responsible for closing the deal.
Presales our way
Selling software development services has its specifics. Those are connected to the project itself. You have to find out what a client wants. Based on that, you estimate how much your work will cost. To showcase how that is executed, we will use Redwerk presales mechanics as an example.
Getting specifications
The lead has project requirements but does not always provide the full specification. That is when the task to pull out the information from the client arises.
Here is what we ask our leads to get the data we need:
Product description or SRS (Software Requirements Specification)
Would they provide the design or should we estimate it?
Do they have API or should we create it?
Do they have any preferred tech stack?
Do they have a required delivery date?
Should we create SRS? (in case there are no specifications)
Should the app be cross-platform? Which platforms should be supported? (for mobile apps)
Should the design be responsive? (for web applications)
What information should be pulled? (for web crawlers)
When it's successfully done, we proceed to a detailed effort estimation based on the time and material model we work by.
Estimation process
That is when we predict the amount of effort (in terms of hours and money) we will need to deliver the project. To do that, our PM distributes estimation tasks among our team of developers, designers, and testers, depending on the required technology and role. It allows determining team size needed to complete the project depending on the customer's deadline.
The result of each sub-estimate is the number of hours needed for front-end, back-end development, design, testing, and project management. And that allows us to build the full hourly breakdown.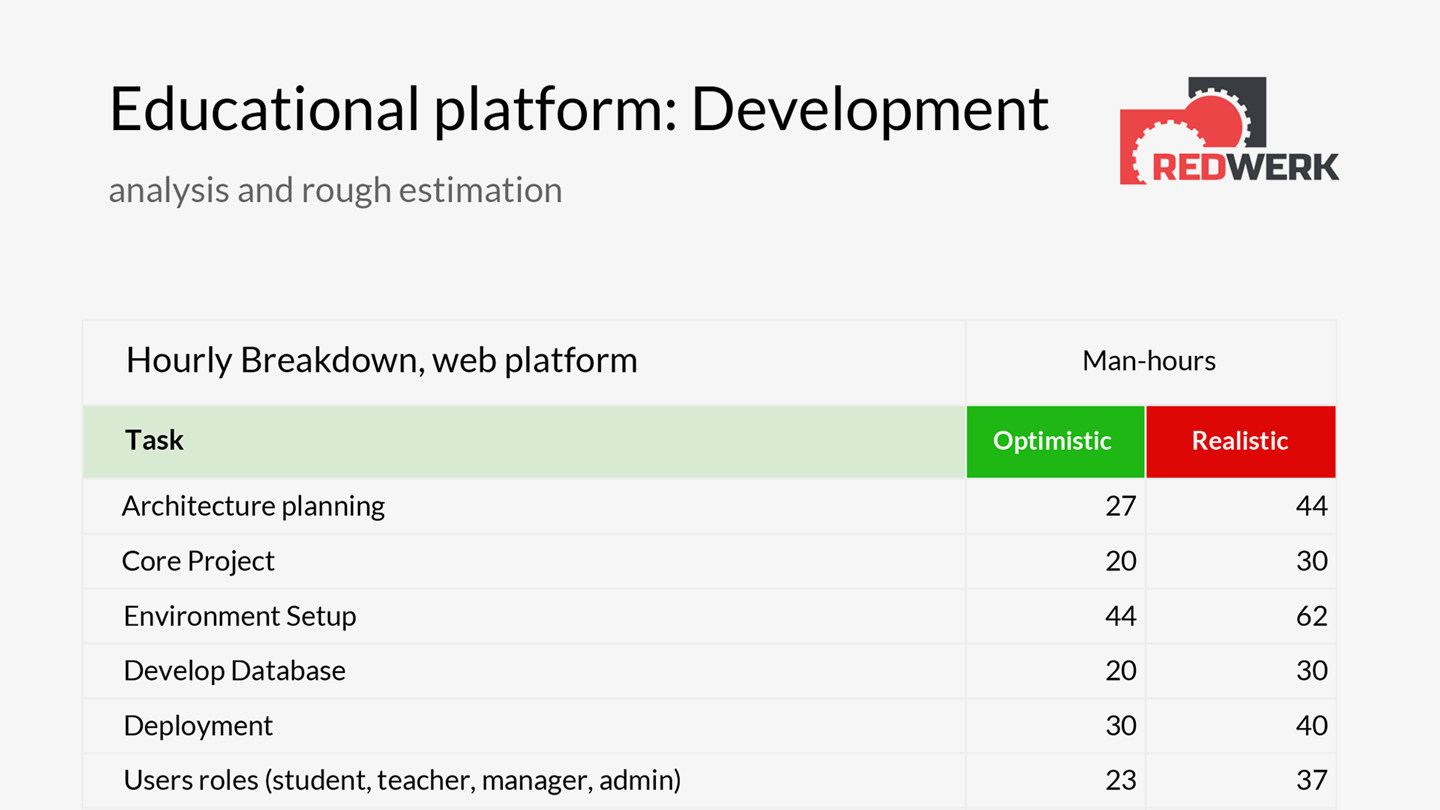 Get PDF
×
Where do you want us to send our project estimation sample?