The effective fashion business is a precisely calculated place to open a store multiplied by active cooperation with bloggers and the personal brand of the founder. However, nowadays, this trio must respond to the rapidly evolving digital world. So if you want to know the ways to increase sales, find the answer on how to get customers online and discover a real case of an online Bridal platform that experienced digital transformation and e-commerce business leap forward — you landed on the right page.
The fourth industrial revolution and how to increase sales volume
The fashion industry is a particular business with its own subtleties and nuances. Bernard Shaw once said that fashion is a controlled epidemic, and the main task of one doing business in this area is to "infect" as many people as possible. More precisely, instill in them a sense of style and make them loyal customers of their own brand. This is the main secret of the company's development in the fashion industry.
However, today, we are not here to chit-chat about Vogue itself but the place and the role of technology in the fashion industry.
Let's first, have a historical flashback to the times when the jacquard weaving or the sewing machine were invented — perhaps, that was a fashion-technology symbiotic relationship starting point. What we have now is live-stream-shows, a dress printed from a polymeric material or printed on a 3D printer shoes, smart mirrors, what's next?
The near future outlook is that by 2025: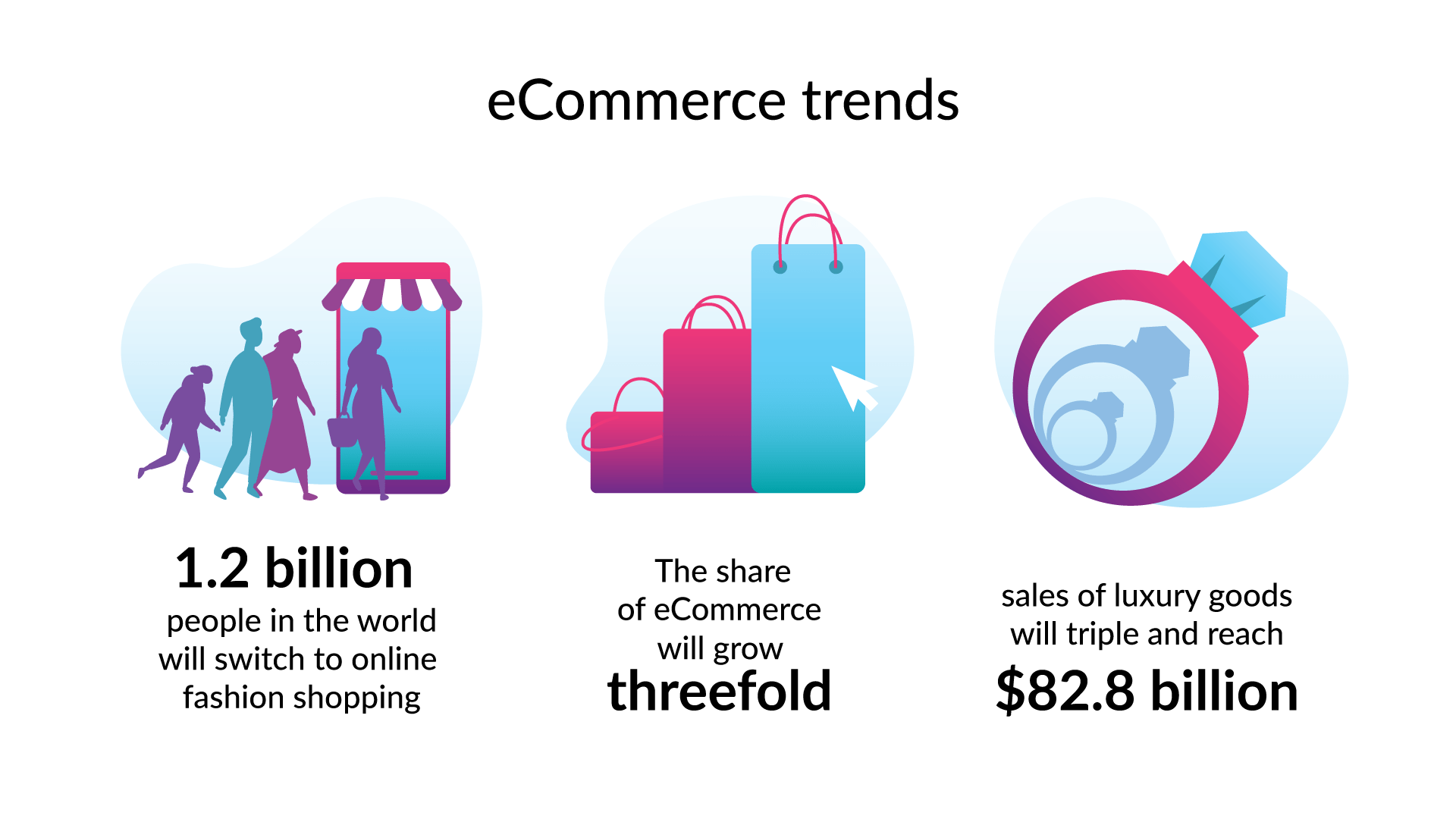 The forecasts of the consulting agency McKinsey convince us that soon there will not be a single corner of the planet where the drone with the goods from Amazon cannot reach.
As we can see, the fourth industrial revolution, thanks to which we live in the digital era, allows technologies not only to define the fashion but also to influence the sales and e-commerce fashion segment overall. Behind each of the four industrial revolutions stretches a trail of changes in fashion trends, and nowadays it smacks of technology.
About e-commerce strategies and "see now – buy now" trend
Nowadays, technology and fashion are already inseparable. Thanks to the cooperation of brands with innovative companies, we can watch fashion shows, create new images, and engage our consumers in the world of fashion through virtual reality, augmented reality, and so forth. The Internet is teeming with a host of examples of creative collaboration with such famous brands as Dior, Burberry, Rebecca Minkoff, and others.
At the same time, designers often only care about the in-showrooms buying experience, forgetting how important the online user experience is. The latter is becoming an increasingly vital medium for e-commerce sales. The average person checks a mobile device at least 150 times a day: check email, social networks, and make purchases. A modern buyer or so-called Google shopper wants to know about the latest fashion trends and to have the opportunity to purchase a favorite brand and new collections here and now. This is where modern technology comes to the rescue.
Changes in customer behavior – e-commerce tips
Stay focused on mobile technology
As consumer obsession with mobile technologies grows, the buying process will also shift towards mobile technologies from beginning to end. Due to a large number of mobile payment systems that are already available around the world, consumers will expect that fashion companies will offer increasingly convenient mobile transactions.
Smartphone shopping in combination with other technologies has the potential to simplify the buying process: for example, imagine buying in an offline store without a checkout (i.e., Amazon Go), where computer vision technology, sensors, and machine learning are used.
E-commerce Tip: since consumers search for goods in social networks, don't forget to develop functions that will allow your customers to make a purchase and payment quickly and on the go.
Shifting interests towards online platforms
Consumers will increasingly look at e-commerce websites as the first entry point in the search for the product they need. Google shoppers will admire the online stores' convenience, that meets customers' expectations, provides the integrity of the results and the breadth of choice. Such platforms (and it doesn't matter whether they are intended for a mass audience or a premium segment) will continue to grow in scope and reach the audience, forcing fashion brands to find new ways of working with these powerful sales channels. Now, for apparel companies, cooperate or not is not the question. The question instead is: How to cooperate with these large online platforms?
E-commerce Tip: find a reliable custom software development agency that would cater to your individual business needs and build a retail software web solution to satisfy even the most capricious wishes of your clients.
Titbit from Redwerk based on real case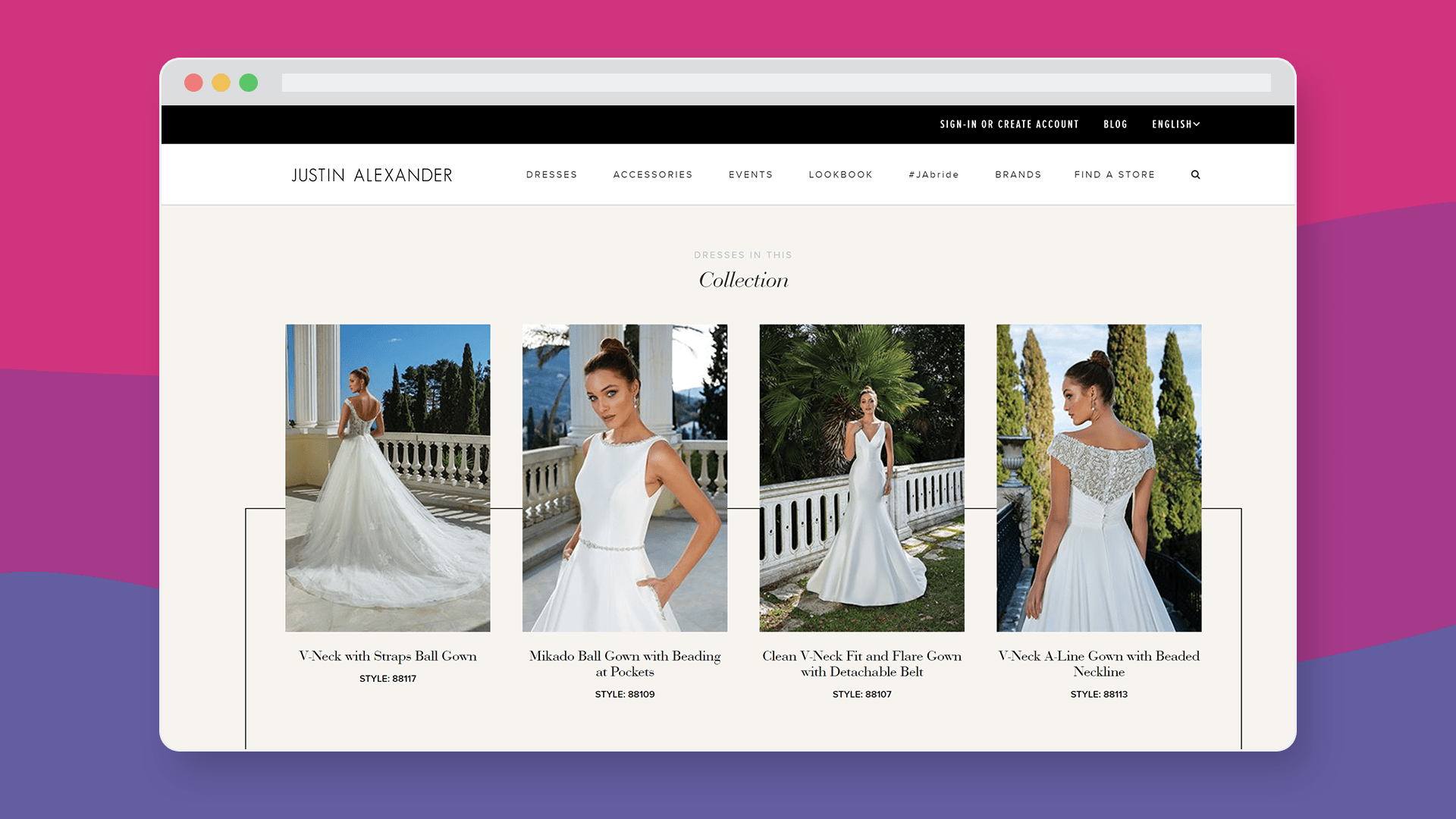 Justin Alexander, a famous bridal dress fashion brand, approached Redwerk team with the task of unifying the four free-standing websites into one multi-brand platform. Our developers, designers, and QA specialists faced several challenges:
Pixel-perfect magazine layout on multiple screen dimensions;
The amalgamation of four different brands with a unique style, product list and events and their consolidation upon a single domain;
Page builder, including page block structure, intelligent search, which would allow users to search for brands and events throughout the website;
Implementation of user geolocation to track the location for personalized suggestions and offers;
Export of a huge amount of data.
The mixture of Redwerk team expertise and carefully chosen tools gave a strong leap forward to our client. This endeavor brought a marvelous outcome with 1500+ retailer stores around the world and 30,000+ website visitors per month. Nowadays, the global online showroom enables access to the latest collections of bridal dresses created by five prominent design brands just in a couple of clicks. So now, this one of the best e-commerce fashion sites caters to a mass demand and satisfies the users all over the world.
To sum up
Well, the advantages of the technology-fashion union are apparent. Here you either have to accept the future or be left behind. If you seek to manage your business efficiently, if you feel like reaching and converting your customers faster, then you want a fashion e-commerce technology to satisfy your demand. Retailing software can do wonders for your business.
With over a decade of experience in e-commerce and retail software development, Redwerk team caters to the needs and demands of companies around the world. Having gained substantial expertise in building comprehensive e-commerce web, mobile, or desktop software solutions for global brands, startups, and online marketplaces, Redwerk's professionals deliver feature-packed custom digital products adequately tailored to the vendor's needs.
If you are thrilled with the idea to invest in the development of your own retail solution, share your business needs with Redwerk and, together, we can roll out the leading e-commerce fashion software for your company.