Vibrant, innovative, and inspiring change – these are the epithets commonly applied to the IT industry. Over the recent years, the tech sector has been booming, and this rapid development is projected to grow in the future. However, no matter how progressive, empowering, and exciting the tech sector may seem, there is still a fly in the ointment, namely, female underrepresentation in tech roles and the IT field in general. Women have been historically perceived as having innate abilities to master Humanities & Arts, whereas men have been associated with excellence at STEM subjects, which spawned a whole array of biases and stereotypes concerning women's abilities to succeed in IT. Fortunately, we are living in the times when gender-based prejudices are fading away, yet there are still gaps to be filled in the coming years.
In this article, we bust common myths, reveal benefits of a diverse and inclusive work environment, and share success stories of women in tech we personally know – our clients and our employees.
Women in tech roles worldwide
Although we live in a globalized, digitalized, and civilized world, women are still catching up with men in terms of filling tech positions. Many scholars believe that the reason behind the male-female discrepancy in the IT industry lies in the years of gendered marketing initiatives and culturally imposed norms. Dame Wendy Hall, a British computer scientist, supports this argument by making an example of the 80s when computers were marketed as "toys for boys." After interviewing hundreds of computer science students, Jane Margolis, an American psychologist, found more evidence on how socially accepted standards discouraged women from pursuing tech careers. Here is the pattern she observed,
"There was a cultural assumption that the norms of being in computer science were that you would do it 24/7, were obsessed with it, wanted nothing in your life but computers – and that was very much associated with male adolescents. Females were made to think that, if they didn't dream in code and if it wasn't their full obsession, they didn't belong or were not capable of being in the field."
Nowadays, those stereotypes are slowly fading away; however, the percentage of men working in IT is still much higher compared to that of women. Let us have a look at the statistical data in this regard.
Women in tech in the USA
In 2015, 57% of all professional roles were occupied by women; however, if we look at computing positions, women filled only 25% of these. Back in 1991, this number reached 36%, yet it has been declining ever since. Compared to other industries, the quit rate in the technology sector is the highest one, amounting to 56%. On the bright side, 49% of women who quit continue using their technical training and hands-on experience, albeit in different industries.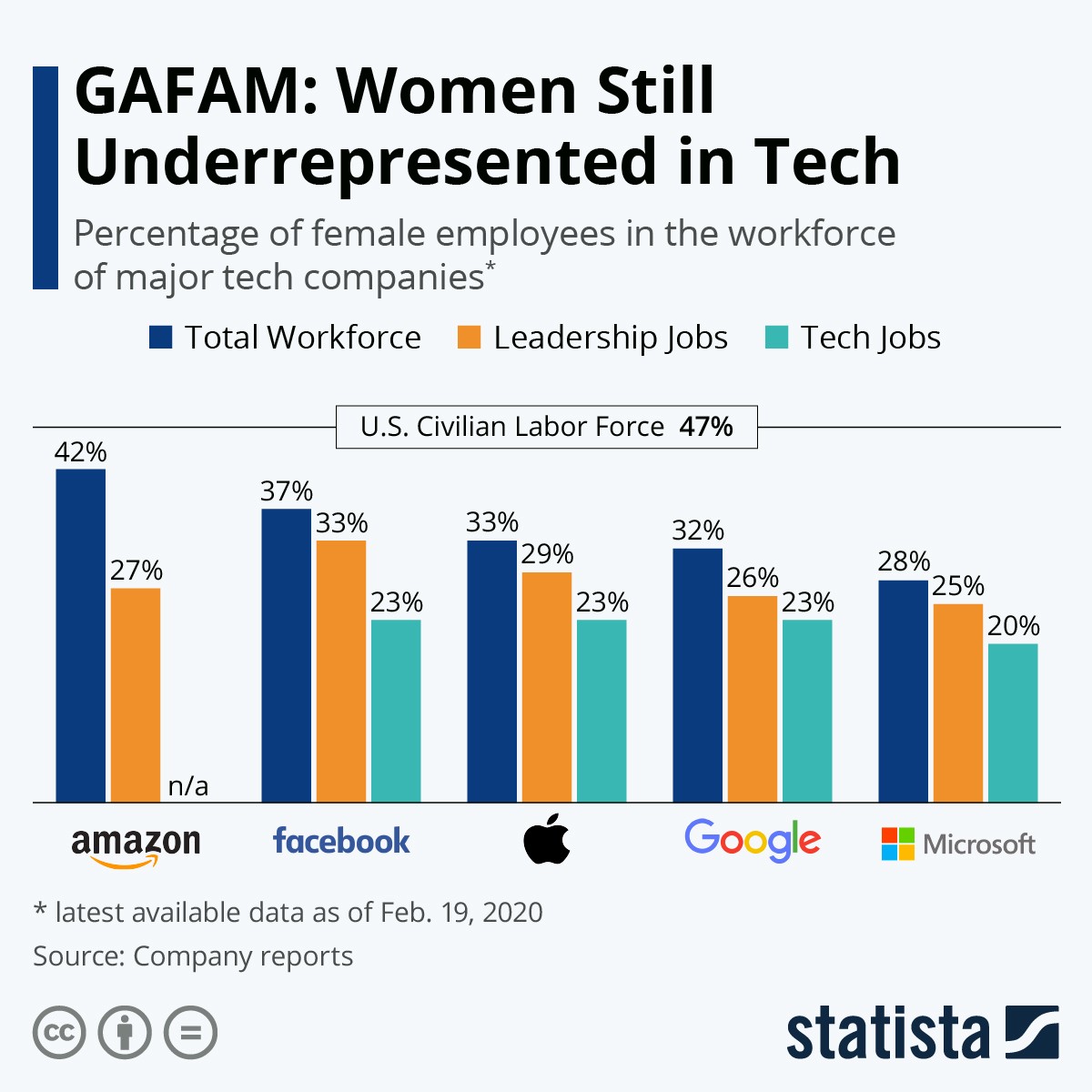 Source: https://www.statista.com/chart/4467/female-employees-at-tech-companies/
As we see, even the leading tech companies with well-developed corporate cultures and sufficient financial resources have not fully addressed female under-representation in the IT field. However, if we take a single tech company and look at the global gender distribution retrospectively, we will see a gradual increase in the number of women working there. For instance, the percentage of female experts working at Twitter rose from 30% in 2014 to 42% in 2019. A similar trend can be followed at Facebook: the percentage of female employees increased from 31 in 2014 to 37% in 2020. Although we see no sky-rocketing results, these gradual changes make us hopeful that more women will be considering IT as the desirable industry for career development.
Apart from gathering the matter-of-fact statistics, we wanted to talk to women in tech we personally know, that is to our clients. Jiajia Zhang, Product Manager at
Gooroo
, agreed to give us an interview, and we are eager to share the insights we've gained from it with you. Gooroo is a US-based startup that matches tutors with students through a convenient digital platform, designed to meet the needs of students, parents, and tutors. We
helped Gooroo
develop a mobile app for tutors, and that is how we got to know Jiajia. Jiajia mentioned in her interview that it is the Gooroo leadership who helped her grow from a Data Analyst to a Product Manager. We asked Jiajia what can be done to increase female representation in the tech industry, and here is what she replied:
4:08 – 5:10
"I definitely think education is the first thing I would provide, STEM education for girls instead of telling girls, "you are not good at math, you are not good at science, you are not supposed to be good at those." And I do think maybe men's and women's brains function differently, it does not mean that women cannot excel at STEM subjects. It would give girls confidence that they can do really well in technology. And also to provide them with the opportunities to explore tech at an early age, to work on hands-on projects on their own, just to give them an opportunity to explore their interest, whatever that is, instead of saying "no, girls shouldn't touch that." I think that would be the first step."
Another talented tech-savvy woman who joined the conversation is Stephanie Levine, senior UI/UX Designer at Justin Alexander. We've known Stephanie since 2014, the very first year of our cooperation with Justin Alexander – a US-based marketplace that has collected the most stunning bridal dresses from famous brands. We've helped Justin Alexander build a custom web platform combining multiple brands as well as completely redesign the website to make it fully responsive. Being inspired by Stephanie's professionalism and dedicated attitude to work, we asked her to share her career story. Here is what Stephanie believes we should do to attract more women into the tech world:
3:32 – 4:24
"I think we need to remove the stereotype that the tech world is just for male computer geeks who sit in their basement and code all day. I think we need to encourage women that we belong in this industry as much as men do. My very first class in high school was Engineering, and I'll never forget the morning before the class. My teacher met me outside of the classroom to warn me that I was the only girl and the only freshman in the class. It was super intimidating walking into that room and not seeing anyone that looked like me. And I almost transferred out of that class, and I am so glad that I didn't because it ended up being my favorite class, and I did a lot better than some of the boys. So I think we need to encourage participation, offer more programs like Girls Who Code, which is an amazing program that I really wish was available when I was growing up."
Women in tech across the EU
In 2015, Ireland, Finland, and Sweden were the EU countries most welcoming female IT specialists, with 25%, 23%, and 21% of women engaged in tech, respectively. As for the recent statistics on women pursuing tech careers across the EU, the following data speaks for itself:
Only 17% of information and communications technology (ICT) specialists in the EU are women
Women make up 22% of participants visiting tech meetups and conferences
Women account for 34% of STEM graduates
Only 27% of female students would consider a career in tech
Only 3% of women view a career in tech as their first choice
Only 2% of investment capital goes to female founders
This data suggests that there is still much to be done to make the tech workplace in the EU fully diverse and inclusive.
Women in tech in Ukraine
Redwerk's R&D offices are based in Ukraine; therefore, we could not but include relevant data on Ukrainian women in the tech sector.
Clearly, here we have a drastic gap between male and female software developers; however, more and more women consider entering the IT field as QA engineers, project managers, business analysts, HR specialists, or technical writers.
At Redwerk, women occupy around 40% of technical and non-technical positions, and we also welcome talents of different ages and ethnicities. Our female tech gurus truly love what they do, so we asked them to share their career stories and what they did to land their first tech job.
"I've always been into computers and programming. Since my early school years, I've been most interested in solving problems rather than reading fiction. I started studying programming on my own: I read tons of books and completed several tech courses, which is basically how I turned into a fully-fledged frontend developer. Programming is what gives me continuous self-development and what makes me feel good about myself,"
"I came to the tech industry from brand management in several cycling companies where I was responsible for brand strategy, communication with vendors, assisting with product construction, managing promotion and the budget for advertising, pricing policy, and forecasts. This is quite similar to project manager's responsibilities in IT – planning, communication, managing the entire development cycle, allocating time and budget. But it was quite a challenge because I needed to learn a lot of terms, technologies, and dive deep into the industry's specifics. I watched dozens of courses on Udemy and even made my own dictionary with new terms. Also, I was lucky to work in a friendly and highly supportive team who never judged me when I was asking questions to learn more,"
"I've always been more attracted to Exact Sciences than Humanities. Like many high school students, I didn't know exactly who I'd like to become in the future, yet I knew for sure that my job had to be related to the tech industry. So I entered the university to pursue a tech career as a process automation engineer. Obviously, I had the opportunity to study programming and database management, yet I knew nothing about software testing. Once, I was walking down the university corridors and noticed an announcement about the start of a new course – "Introduction to Software Testing." It caught my interest, and back home, I started googling everything about it. What I discovered only fueled my interest more and more, so I decided to take the course. From that moment on, I've been working on improving my skills and gaining hands-on experience in testing, and I can wholeheartedly say that I love my job. What I like about testing is that it prompts you to keep up with the times, with new technologies, and on top of that, there is room for creativity in terms of how you approach each task,"
Are male and female brains different?
The debate regarding possible differences between male and female brains has been heated for many decades, and even nowadays, some people unquestionably believe old neuroscience studies. Although it is obvious that men and women have physical differences in anatomy, so far, there are no clear-cut findings that prove male and female brains are different.
Trying to investigate this intricate matter and prove their hypotheses, neuroscientists have come up with numerous, albeit not very accurate, methods to measure the differences between men's and women's brains. One of the most straightforward parameters for comparing male and female brains is the size of the brain. It was discovered that, on average, men's brains are 7-10% bigger than women's. However, if the brain's size is correlated with the size of the body, this difference disappears. On top of that, if we look at the brain size of a cachalot or an elephant, can we claim that these mammals have better cognitive abilities than humans simply because their brains are larger?
You may have also heard the idea that women are excellent multitaskers, whereas men are better at spatial reasoning, yet again, these are just gendered misconceptions. Gina Rippon, Professor of Cognitive Neuroimaging at Aston University, questions this kind of findings because of their inconclusive methodology and weak statistical power. Over the years of her practice, Rippon also discovered that even if there are tiny performance differences between men and women, they disappear with training and are inconsistent across cultures.
One more factor that fuels the stereotypes revolving around biological differences between male and female brains is the distorted representation of scientific research by the media. Lisa Eliot, Professor of Neuroscience at Chicago Medical School, revealed an astonishing truth about how media representatives misinterpreted findings of "tiny by today's standards" research and spread them on television, newspapers, and corporate leadership conferences. The TV show crew declared that men had six-and-a-half times more grey matter than women, whereas women had ten-times as much white matter as men, whereas the original study did not have such conclusions at all.
We wondered what makes the tech industry appealing to women now, regardless of all those stereotypes and misconceptions, what motivates them to work in a demanding and highly changing tech environment. So we asked Alisa Henson, Application Development Manager at C!A (Change & Innovation Agency), to help us figure it out. Our Redwerk team got to know Alisa while helping the C!A team with developing a software solution for their client. C!A's mission is to make the systems of government as amazing as people of government through innovation and change, and the latter is easier achieved with the right software solution in place. Alisa is one of those people who fell in love with technology from the first engineering class and who've always known she has an aptitude for technology and everything related to it. With 20-plus years of IT experience, Alisa knows all the ins and outs of the industry, and she believes it is the creative nature of the job itself that prompts more and more women to try themselves in tech roles:
4:21- 4:34
"For a long time women have been told that there are certain jobs that men are more geared towards – anything that's mathematical or engineering. You just don't see as many women in those industries but as time has gone on, it's been proven, and women have seen other people doing it, and it makes them think, 'Okay wait, I can do this too. I see these women doing this, so now I don't need to be afraid of trying it too.' And I think one of the things a lot of people forget about or don't realize about technology is how creative it is, which lends itself to the way that a lot of women's brains work. I was a developer and I also was an art minor when I went to college, and people say they can't see how that goes together, but it actually absolutely goes together because there is definitely an artistry in development and in technology; there are thousands of ways to get to the same solution, and there is the creativity you have to have to decide what that solution should be."
Diversity brings business value
Diversity in the workplace is definitely one of the most-talked-about business issues, and so far, there are probably no C-level executives who haven't heard of or brought this matter to discussion. The reason this topic has such immense popularity is that diversity is indeed vital for nurturing a healthy, respectful, and inspiring work environment. If viewed seriously, not just like an obligatory point from a company's social responsibility policy, it can bring several benefits for all parties involved.
Financial gains
Yes, businesses with diverse work environments gain more revenue, and we've gathered numbers to prove it. According to a recent Gallup study, gender-diverse companies operating in retail and hospitality earn 14% and 19% more compared to less-diverse businesses. Another study by the Boston Consulting Group revealed that teams with diverse leadership generated more innovative solutions and thus contributed to improved financial performance. Innovation is what most tech companies swear by; therefore, by encouraging women to come work with them, IT companies, in particular, can gain a decent boost in their overall development.
High engagement level
It is passionate and results-driven employees who make those profit margins to rise up. The question arises, what factors motivate employees and make them genuinely interested and committed. It was discovered that for teams with equal numbers of men and women, it was easier to generate creative solutions, readily share knowledge, and complete the assigned tasks than for teams with any other gender distribution. A survey conducted by the Center for Creative Leadership shows that having a higher number of female employees at a company predicted higher job satisfaction, stronger commitment, and reduced burnout. Again, it is diversity that makes people feel fulfilled and appreciated, which in turn leads to high engagement and family-like atmosphere in the workplace.
Inclusive solutions
So many people, so many minds. It is only logical to create a diverse workplace, which in turn will generate diverse solutions. We live in a world favoring open-minded, tolerant, and forward-looking people. From clothing companies featuring models of all shapes, ages, ethnicities, and sizes to makeup brands expanding their skin color palettes, brands started embracing change and using inclusivity to their advantage. And tech companies are no exception. Engaging people from diverse backgrounds results in developing more efficient approaches, discovering new angles, and developing optimized, well-rounded software solutions for consumers.
We asked Phyllis Wong, Software Engineer at Evolv, to comment on the importance of engaging more women in the software development process. Evolv is a US-based tech company applying latest advancements in AI to help businesses create best-converting digital experiences. Our Redwerk team has been helping Evolv to thoroughly test and upgrade their core product – an AI-powered A/B testing platform. Phyllis has been our major point of contact with the Evolv development team, so we couldn't but ask her to share her opinion on the matter:
2:17 – 3:34
"One of the big reasons I think it is important is because when we have just a small subset of the global population creating all of the software that the whole world uses, it doesn't tend to solve the problems that it thinks it's solving. And software is designed, I think, to solve problems, or should be. When we have women in tech, we have another perspective. I'll use an example of pockets in pants. Women's pants don't have any pockets, or the pockets don't hold anything. I think that the assumption when pants are designed is that women carry purses, so they don't need pockets. But we, as women, we know this is not true: we need somewhere to put things, we don't always want to carry a purse. So, when you have a woman involved in decision-making, we can say, 'Actually, that's not true; we do need this thing. Let's make sure the software is holistically working for everyone."
Organizations empowering change
Nowadays, women have enough resources to learn a programming language from scratch or upgrade their existing tech skills. In IT, you do not necessarily need a degree in Computer Science, although it is helpful, to get employed and start gaining practical experience. There are plenty of free online resources and affordable online boot camps that provide education sufficient for a junior position. From there, you can apply for internships and scholarships or look for a junior or part-time role to start gaining practical experience. This path applies both to men and women willing to join IT; however, there are hundreds of organizations and tech events specifically targeting women aiming to receive a tech qualification. Here are some of the most popular ones:
What we've learned from the successful women in tech we've interviewed is that it is not necessarily a Computer Science degree, although helpful and obligatory for certain positions, that helps you make a great and enjoyable career in tech. It is mostly a genuine interest in technology and a set of personal traits, such as resiliency, openness to corrective feedback, and confidence to express your ideas and advocate for inclusive solutions that make a difference. As long as you possess these traits and take actions to achieve your goals, it doesn't really matter what gender you are. Keep pushing, and you'll get there.
"As in any profession, you need to enjoy your work. Being happy at work and being interested in what you do helps you be more productive and motivated. It's not a secret that if you hate your job, you get bad results, health issues, and of course, you cannot be successful. The IT world is changing rapidly, so you should love learning and be adaptive. That does not always mean learning only something related to your daily duties – keep an eye on other technologies to stay a more well-rounded developer. Be a good team-player. There are a lot of people besides you on the project, and without communication, you just carry water in a sieve. And, last but not least, you should be able to concentrate on solving your tasks, be organized and responsible, and of course practice. We all start from scratch, so keep practicing, sharpening your skills, and you will succeed,"
"I'm neutral about the gender issue regarding work. For me, the most important thing is the quality result, and it doesn't matter who provides this result – men or women. Although I myself began to notice that recently there have been more and more women in tech, many girls achieve remarkable successes, get senior positions, own their own companies and can independently conduct business,"
Summing up
The statistics on women in tech clearly indicate that because of biased marketing campaigns and certain social norms of old times, women had been discouraged from joining the tech world. It is only recently that women have started to fully explore opportunities in tech and view IT as a potential industry for professional development. What is truly inspiring is how women who already work in tech comment on the situation of female underrepresentation: it is not about attracting more women to join IT; it is about attracting the right people, regardless of their gender, and about eliminating obstacles for those willing to innovate and contribute to shaping a new technically advanced world.
P.S. Written by a woman in tech.